"
I'd come and save you. Super Baker to the rescue!
"

—Tom, "Stoneheart"
Click here to see quotes from Tom Dupain.
Tom Dupain is Marinette's father and the owner of the Tom & Sabine Boulangerie Patisserie with his wife, Sabine Cheng.
Appearance
Physical appearance
Tom is a tall man with a large build. He has green eyes, brown hair, sideburns and a mustache.
Civilian attire
He wears a light blue shirt with two buttons at the front of the neckline, light brown pants, and dark brown dress shoes. He wears a silver band on his ring finger.
For more of Tom's outfits and designs, see Tom Dupain/Designs.
Personality
Tom is passionate about his job and loves to share with his daughter.[2] He also likes to play video games with Marinette and seems to be quite confident in his abilities as a gamer, saying his daughter learned from the best. He is protective of his loved ones, even going against André Bourgeois' authority when the latter tries to have Marinette arrested in "Rogercop". In this same episode, he tells Marinette that passing the blame onto others is wrong, showing that he does not approve of selfish behavior. As a well-meaning parent, Tom will discipline his daughter or call her out on disobedient and troubled behavior. He also gets exasperated, frustrated, and disappointed in some cases, but he usually means well and doesn't hold a grudge afterward. While he can be intrusive sometimes, usually related to Marinette's crushes, he knows his boundaries. Caring about the well-being of others, Tom assists and comforts anyone, whether he is familiar with them or not, and he is very friendly and optimistic.
In "Troublemarker", he is somewhat nervous in front of the camera, very protective when his family's privacy gets invaded.
Abilities
A baker, Tom can make multiple delicious foods like pastries and candies. He also knows how to play video games, which is a hobby he enjoys outside of work.
Family
Tree
    = Male
    = Female
    = Gender Unknown
Notes
The lineage of Sabine Cheng's parents and uncle is uncertain.
In China, wives do not usually take on their husband's surname, keeping their own. Children usually take the father's surname.
During a 2018 Miraculous panel at Ludicomix, Thomas Astruc revealed that Marinette has a grandfather but it's currently unknown if he is from Tom's or Sabine's side.
Relationships
Sabine and Tom have been married for twenty years. A loving couple, they often show each other affection and support. They make a strong, successful team together running their bakery business, and they give each other consolation when they're dealing with or witnessing problematic situations. When they are getting ready for their anniversary in "Timebreaker", he stresses about how he looks, and the couple hugs each other after the Bubbler's defeat in the episode of the same name.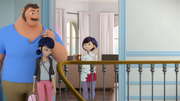 Tom loves his daughter and supports her, desiring the best for her in all aspects of life. They enjoy playing video games together, and he often praises her skills, very proud of her for getting to design Jagged Stone's next album cover in "Guitar Villain". Also, Tom promises to protect her when she is distressed, even standing up for her against the mayor of Paris when he impulsively accuses her of theft. However, Tom will be stern and straightforward with her when she is acting poorly or disobedient, punishing her at the most. He points out to Marinette that she is guilty of making the situation with Chloé's bracelet worse by accusing others and not letting the adults figure it out in "Rogercop". In "Simon Says", Tom and Sabine put Marinette under curfew because she is often absent from school. After her attendance improves, they lift the curfew, though when she mysteriously leaves them for something, he admits he doesn't understand her sometimes. Having a great father-daughter relationship with her, Tom enjoys teasing and goofing off for Marinette, and he is happy to have her as his daughter.
He is extremely proud of Marinette in "Queen Wasp", when she gets the opportunity to go to New York supporting whether or not if she accepts the offer. But likes the idea of opening their bakery in America.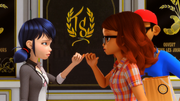 Tom, being a major fan and supporter of Ladybug, is grateful for her, believing that she and Cat Noir will keep Paris protected. Tom is unaware of Marinette's double life as Ladybug, as he meets the heroine in "Animan" without recognizing her as his daughter. Still enthusiastic about and supportive to the superhero, Tom openly helps her in any way he can, allowing them to hide in the bakery as they wait for Animan to find them. Tom pumps his fist in excitement when Ladybug destroys Hawk Moth's akuma-made projection in "Stoneheart", and in "Lady Wifi", Tom and Sabine watch worriedly when Lady Wifi threatens to expose Ladybug's real identity. When Marinette is doubtful of Ladybug in "Stoneheart", Tom reassures her to trust that Ladybug and Cat Noir are going to protect them, helping them by not being afraid.
Tom is well aware of Marinette's feelings for him, constantly watching them in Marinette's room while they're practicing for the Ultimate Mecha Strike III tournament with the excuse of bringing up pastries. He tries to impress Adrien by saying how Marinette learned video games from the best, referring to himself. Once Tom and Sabine learn that Adrien has gone missing in "A Christmas Special", they go out and help search for him. They also go to check on him at the Agreste mansion after they find out that he isn't missing anymore.
Like with Ladybug, Tom appreciates Cat Noir's heroism, happy to have him around to save Paris from villains.
Tom usually respects André and other officials, but he gets angry at André when he jumps to conclusions about Marinette stealing his daughter's bracelet. However, in "A Christmas Special", he treats the mayor kindly as André drops by to get pastries.
Sightings
Episodes
Comics and books
Other
Trivia
Tom is named after creator Thomas Astruc.[3]
His last name, Dupain, comes from the French words "du pain" that mean "of the bread" or "some bread."
While it's unknown if Tom Dupain was Marinette's father's name at the beginning, Marinette calls out to him, saying "father" in Chinese (父), on the second fake cover of The Mini Menace Ladybug.

He is also most likely the person lying on the floor and holding the ladybug-themed necklace.

In "Rogercop", he states that he wakes up at 4 A.M. every morning because of his work.
As displayed by Marinette's phone in "Timebreaker", Tom's number is +33602423.
While baking, he wears a white shirt instead of his regular blue one.

In "Sandboy", Tom's greatest fear is dough coming to life to eat him.
Gallery
| | |
| --- | --- |
| Click here to view the gallery. | |
References