Major Spoiler Warning
This page contains major spoilers that have not yet appeared in any episodes anywhere worldwide.
"
Listen, young man. I decide what's best for my son.
"

—Gabriel, "The Bubbler"
Click here to see quotes from Gabriel Agreste.
Gabriel Agreste
is
Adrien
's father and
Mrs. Agreste
's husband. He is also a famous fashion designer, creating and owning the brand
Gabriel
.
[2]
Appearance
Physical appearance
Gabriel is tall with combed-back light blond hair and blue eyes.
Civilian attire
He wears black-framed silver glasses. He has a white dress shirt underneath a silver vest with red buttons and a cream-colored dress jacket, along with a red and white striped tie. He also wears red dress pants and white shoes with red laces. On the middle finger of his left hand, he has a silver band ring.
As the Collector
The Collector's skin is pale purple. His hair sticks up in a point and is white with black vertical stripes, along the back of his head and his neck being black. He wears a black dress suit with a white lapel, stiff shoulders, and black and red downward-bent stripes on the front. Each lower sleeve has a white stripe, and the Collector's hands have white gloves. Also, he wears black dress pants. His high heel boots are connected to his body suit, and they are black with black and white striped heels.
For more of Gabriel's outfits and designs, see Gabriel Agreste/Designs.
Personality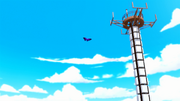 Gabriel comes off as cold, harsh, and very strict. He is very protective of his son Adrien, having kept him home for most of his life, although having a distant relationship with him. Despite this, he can also be respectful and kind at times, especially when needing to act professionally. According to Adrien in "Adrien's Double Life", ever since the disappearance of Mrs. Agreste, he is a changed man. He misses his wife greatly, and he sometimes has to be reminded to not forget that his son is also grieving. While he does seem to genuinely care for Adrien, this is often in a possessive way, with Gabriel not wanting anything bad to happen to him and making executive decisions about how to keep his son safe without considering how he may feel, such as in "The Bubbler", in which he unjustly deems Nino a bad influence for Adrien and forbids him from coming to his home ever again. He also strongly dislikes taking orders from anyone, even if they are from people who are trying to help and protect him such as Ladybug and Cat Noir.
Abilities
As civilian
Gabriel is an expert at designing clothes and fashion designs, from shirts to accessories to jewelry. Additionally, owning the
Gabriel
brand, he is well-versed at running a business, including solving solutions on phone about a design issue and presenting himself professionally in front of others.
As the Collector
The Collector is able to trap objects and people in the form of drawings inside his notebook. He throws the notebook like a boomerang, and while the notebook can go very far distances, once it captures something or someone by hitting them, it returns to him wherever he is. He can also utilize the notebook as a shield against projectiles, opening the book, either holding it sturdily or waving it around, so it traps the object being thrown towards him. Anything it passes through is trapped no matter how big it is.
Additionally, the Collector is quick and agile, easily flipping, jumping, and dodging attacks.
Family
Tree
    = Male
    = Female
    = Gender Unknown
Notes
Mrs. Agreste mysteriously disappeared before the events of Season 1, and her current whereabouts and status are unknown.
Relationships
Despite being protective of his son, Gabriel's relationship with Adrien is distant. He and Adrien do not spend time together often, which greatly upsets the latter. He is also very controlling of what Adrien does, having his schedule planned from day to day and not allowing him to go to school without his bodyguard to ensure his safety. However, some if not all of his actions towards Adrien are because he is overprotective.
To some extent, he does openly seem to care for his son, wanting to get him a birthday present in "The Bubbler" despite not choosing it for Adrien himself. In "Simon Says", he shows that he's proud of him by telling Ladybug that he's perfect and a lot like his mother. After being saved by Ladybug and Cat Noir, he finds Adrien in his room and hugs him. When bringing a present to Adrien in "A Christmas Special", he panics when he finds that he isn't in his room and demands that he be found. He's relieved once Adrien returns. As he sadly explains to Adrien, he can't bear to lose him after losing his wife. He also listens to Adrien about allowing a crowd of people into their mansion to celebrate Christmas with them.
When he meets Cat Noir in "Simon Says", he isn't pleased when the superhero starts giving orders to protect him, yet when Cat Noir insists more, Gabriel tells him that he is headstrong and that he reminds him of someone, after which he turns to face a portrait of his wife. He shakes hands with Cat Noir after being saved by him and Ladybug. He also notices both Cat Noir and Adrien's ring and appears to become suspicious.
Not much is known about the relationship between the couple. However, Gabriel did genuinely and strongly care for his wife.[4] There are moments that show he misses her a lot, including in the Christmas special when he sadly looks at the portrait of her in his atelier. According to Adrien in the webisode "Adrien's Double Life", ever since Mrs. Agreste disappeared, Gabriel has not been the same.
Gabriel trusts his personal assistant, Nathalie, to take care of tasks for him and Adrien. He doesn't appreciate when she messes up, however, like getting impatient with her when she forgets to get a birthday present to give to Adrien on his behalf. When she gives him useful advice, he listens intently and takes it, like agreeing with her to let Adrien attend public school in "Stoneheart" and to be there for Adrien on their first Christmas without Mrs. Agreste in "A Christmas Special".
Gabriel has a strong distaste of Nino and believes that Nino is a bad influence on Adrien. When Nino objects to him not allowing Adrien to have a birthday party in "The Bubbler," Gabriel, displeased with his authority and decisions being questioned, tells Nino that he is not allowed in the mansion anymore because he is a bad influence on his son. However, in "Simon Says", he appears to have either forgotten about this or gotten over it, as he hardly acknowledges his presence inside the mansion.
Despite not actually meeting Marinette in person, he recognizes her as a skilled hat maker and lets her prove that her hat is her own creation in the contest he was judging. When she does, he compliments her hat and declares her the winner.
With Ladybug, he seems to respect her, trusting her to protect him and chatting with her about Adrien when she and Cat Noir were guarding him in "Simon Says". He also shows a strange interest towards her earrings.
History

Click here to view the history of Gabriel Agreste.
Sightings
Episodes
Others
Trivia
Gabriel is named after Gabrielle "Coco" Chanel, who created the French designer brand, Chanel.[5]
Gabriel is Marinette's role model, as she hopes to be a great fashion designer like him.
Gabriel's phone number as listed in Adrien's phone contacts is +33678424.
In "The Evillustrator", Chloé bribes Sabrina using a beret that Gabriel designed.
He is responsible for Nino and Simon Grimault's akumatization.

Gabriel has a secret safe behind the painting of Mrs. Agreste in his atelier. It contains the Peacock Miraculous, a picture of Mrs. Agreste, tickets for Tibet, and a book about the Miraculouses.

In "Volpina", Adrien takes the Miraculous book, unbeknownst to Gabriel, and the book eventually ends up in Marinette's hands. Gabriel's reaction and response to his book being stolen are yet to be seen.
Gallery
| | |
| --- | --- |
| Click here to view the gallery. | |
References
Ad blocker interference detected!
Wikia is a free-to-use site that makes money from advertising. We have a modified experience for viewers using ad blockers

Wikia is not accessible if you've made further modifications. Remove the custom ad blocker rule(s) and the page will load as expected.