Major Spoiler Warning
This page contains major spoilers that have not yet appeared in any episodes anywhere worldwide.
"
What if... none of you had the slightest idea of what's really going to happen?
"
The second season of Miraculous: Tales of Ladybug & Cat Noir is confirmed to be in progress by Jeremy Zag.[7] It will have 26 episodes.[8] Storyboard artists Wilfried Pain and Christelle Abgrall, as well as Jun Violet, began directing the series with Thomas Astruc this season.[9] It will premiere in December 2017, with the first thirteen episodes anticipated to be released on Netflix for US viewers.[1][10][11]
Season overview
At school, Marinette is on the alert. The deceitful Lila wants to steal the heart of Adrien and become popular by lying and manipulating the whole school... But Marinette and Alya, as well as Chloé the pest, keep a close watch on her. During this time, Adrien confronts Kagami, a first-class fencing adventurer, and he is not insensitive to her talent.

On the superhero side, Ladybug finally meets Master Fu, the guardian of the Miraculouses who had entrusted her the earrings and Tikki, its kwami. He reveals that there are other Miraculouses and that she might have new powers...[12]
History
On December 10, 2015, Wilfried Pain announced on Twitter that he started writing a script for Season 2, revealing that the season was in its scripting stage.[13] According to Astruc, while episodes will still be self-contained, the season will feature powerful story arcs.[14] The storyboard stage of Season 2's production officially began on May 2, 2016.[15] New locations from Paris were also announced by Winny to be shown this season.[16]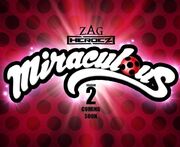 The first promotional image for Miraculous Season 2 was released on June 3, 2016. The picture showed the series name and the "Zag Heroez" logos in addition to the words, "Season 2 / Coming Soon," with a Ladybug print in the background.[17] The writing process of the season hit the halfway mark on June 21, 2016.[18]
During the 2016 Miraculous Ladybug panel at the Los Angeles Anime Expo, new information regarding the season was revealed and reposted by attendees online. Some news included plans for a Tikki and Plagg spinoff episode, new powers for the hero duo, and the possibility of the real Volpina (not Lila's akumatized form) becoming a recurring character.[19][20]
Pain later confirmed on Twitter that ten episodes had been scripted by July 5, 2016.[21] After the UEFA Euro 2016 on July 10, 2016, as a thank you to fans for supporting the French soccer team, Astruc released information regarding the upcoming season. New facts included an "evolution" of the relationship between Marinette and Adrien, and that a "big reveal" would be appearing in this season. The tweet also confirmed some information presented at the Anime Expo panel, such as the additional facts on Mrs. Agreste, the introduction of new family members, and new Miraculouses appearing.[22] Astruc later revealed on July 15, 2016, that the creative team created a new character for Season 2. "Afraid of spiders?" was added to the end of the tweet, implying the possibility of a spider-based character.[23] On August 13, 2016, he later elaborated on the character, revealing potential concept designs of a woman named Anansi.[24][25]
On July 16, 2016, Astruc explained at Japan Expo 2016 that the first finished episodes of Season 2 will likely be delivered around March-April 2017.[26] Astruc also revealed that the crew may try to have the specials finished for 2016, but it can't be promised for now as it's a complicated process.[27] At San Diego Comic-Con International, it was revealed that the holder of the Bee Miraculous and the holder of the Fox Miraculous will appear in either Season 2 or Season 3, and that a new recurring villain would team up with Hawk Moth.[28][29] It was announced that Season 2 will reveal if non-humans (like animals, robots, or kwamis) can be akumatized as well.[30]
On August 1, 2016, it was revealed that Marinette's hairstyle will not change.[31] A ball scene was also confirmed to be in production.[32] Later that month, on August 15, 2016, Ezra Weisz announced on Periscope that the English dubbing for Season 2 is going to be recorded in a "couple of months."[33] Zag later explained, in a video interview held on August 25, that there will be a Season 2 episode revealing the origin of kwamis. He also mentioned that the new main villain will make Hawk Moth appear like "a baby" in comparison.[34]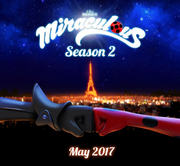 In honor of the first anniversary of the show's international release, Zag published an image sharing the official date of the second season.[35] However, Astruc later followed up the comment, reminding fans that while the season will be completed by that time, the Miraculous staff does not have control over when the series will be broadcasted.[36] Pain reached 10,000 followers on September 8, and as a gift to fans revealed a storyboard from the second season showing that a future episode will include a balcony scene featuring Marinette and Cat Noir.[37] Writing for the season ended on September 9th. Astruc announced it on Twitter, stating "Heroes of the day: Mélanie Duval, Sébastien Thibaudeau, Matthieu Choquet, Fred Lenoir. S2 Finale written. #epicness."[38] He also teased that he would make a cameo as an akumatized character after the writers replaced a rejected script on September 20.[39] Also on September 20, English voice actor Christopher Smith posted a Tweet about having a recording session for Miraculous, along with teasing, "Is season 2 afoot?"[40]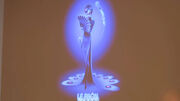 On October 7, 2016, at New York Comic Con, the identities of the Bee Miraculous holder and Fox Miraculous holder were revealed. They announced the fox kwami and peacock kwami's names as Trixx and Duusu respectively, and they showed new concept art that revealed The Collector and Le Paon.[41] Weisz released a video on October 14 with Cristina Vee, with Vee saying that there is a possibility she is working on recording episodes for Season 2.[42] At his panel at Comic Con Paris, Astruc revealed that there is a very special episode in the season that five writers worked on, and he noted that Cat Noir will have a more important role. He also noted that the writing stage for Season 2 has finished, with the crew setting the bar very high for it, and that Season 2 will include new major secondary characters.[43]
An announcement was uploaded to the official Miraculous Ladybug YouTube Channel on January 31, 2017. The announcement, related to a contest held at Stan Lee's Comic Con three months prior, stated that a fan would be turned into an akumatized villain in the second season of the series.[44]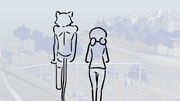 At a panel at Anime Los Angeles in February, Weisz revealed that the date of Season 2 had been pushed to the middle of the summer in 2017, with the announcement for it premiering in May 2017 being invalid.[45] In a response to a fan's question on Twitter on February 8, 2017, Astruc replied that Season 2 will not premiere on Nickelodeon, while instead being solely on Netflix for the US.[46] Later, on February 27, the official Miraculous Ladybug Tumblr blog noted that a trailer for Season 2 will come out soon.[47] Pain also noted that day that "if you like Chloé, you should enjoy Season 2," and the following day, he announced that the episode with drums and kisses he had written with Astruc had made it to its final animatic.[48][49]
On March 27, new info revealed by the official Tumblr blog included that Season 2 involves chronologically-ordered episodes, shipping moments for characters beyond Marinette and Adrien, and Alya's third unnamed sibling's debut.[50]
On April 15, Astruc confirmed that the bee kwami's name is Pollen after a fan guessed it.[51] A few days later, on April 17, Thomas added that fans could expect both new relationships and space ships in the upcoming season.[52]
News released on May 6, 2017, that Netflix, Disney Channel, Gloob, and TF1 committed to airing the second season in the US, EMEA, Brazil, and France, respectively. [53] On May 16, Jeremy Zag announced that a live Miraculous event would be happening on the following day, including an exclusive sneak preview of the season.[54] During the event, Thomas Astruc stated that he felt writing quality has improved since the first season. He explained that now the entire team of writers all meet together to discuss episode plans, collectively working on every episode to improve consistency. He also mentioned that this aided in the creation of story arcs and creating higher stakes. Seventy-four episodes have been written across the various seasons, including Seasons 3, 4, and 5. A new relative to Nino, Chris, was also revealed, as well as the news that LGBTQ+ characters have been added to the series. Le Paon was confirmed to appear at the end of this season. Swimming pool and rollerblading episodes were planned as well.[55]
On June 3, Weisz confirmed in a YouTube comment that English dubbing has yet to start, and in the past week, he received a provisional recording schedule for the English actors as to when dubbing for Season 2 will begin.[56] On June 4, Zag announced that Season 2 assume to be premiere in Fall 2017 in order to "synchronize a global launching and launch major countries at the same time."[11] A panel at Dokomi 2017 happening the same day included Astruc and Pain revealing that some friendships/relationships might be broken and Hawk Moth might get a new helper.[57] On June 19, Zag posted images and a short video of the crew working on Season 2.[58] Weisz, in an Instagram post on June 29, revealed that preparation for recording the English cast for Season 2 was starting, and he released an episode title, "The Collector".[59] He noted that the episode had "shocking twists."
Zag stated in a tweet on July 19 that there would be a sneak peek of Season 2 at the San Diego Comic-Con 2017 panel of Miraculous Ladybug.[60] On the same day, in a Twitter post, revealed that preparation for recording the French cast for Season 2 was starting.[61] It was also announced that the English, French and Castilian Spanish casts are planning to start dubbing in August.[62] On July 20, the day of the panel, it revealed that the date for Season 2 has been pushed back to December 2017. Cast members of the English version also read a script for a Season 2 episode named "Troublemaker".[1] When Twitter user and artist Megu posted artwork of a Shaolin temple, noting it was for a project she was working on, Astruc and Megu revealed that Megu was helping with an illustrated flashback in an episode for Season 2.[63] On July 20, the voice of Adrien in the Castilian Spanish dub announces that the studio began work on voice-over of the second season in Spanish. Localization is ready for the first three episodes and work on the rest will continue in September.[64][65] Pain uploaded a clip of the shot with Marinette and Cat Noir in the animation stage before rendering on July 24, 2017.[66] On July 27, the French broadcast for Miraculous, Tfou, revealed that they will announce the exact air date of Season 2 at the Tfou Back-to-School press conference at the end of August.[67]
On August 4, previews of "The Collector" were shown at Seoul Comic-Con 2017.
[68]
During the panel, it was revealed that the second season will be released in March 2018 in South Korea on EBS1.
[6]
Then, on Twitter,
Jesús Barreda
, the voice actor of Cat Noir in the Castilian Spanish dub, revealed that there will be an episode in which Chloé asks Adrien to help her so that other people like her better.
[69]
He also revealed that Ladybug and Cat Noir will have an interesting interview on TV.
[70]
These tweets, however, were later removed. Confirming that the English recording for Season 2 was underway, Weisz posted an Instagram video on August 8 of Vee recording lines for "The Collector".
[71]
On August 11, Weisz revealed that they finished working on the first two episodes of Season 2.
[72]
Six days later, Astruc revealed an in-process image of the episode "
Riposte
" on Twitter, in which its episode name and production code were revealed. The picture featured Ladybug standing on a rooftop with Adrien in one arm, with the other hand holding onto her
yo-yo string
. Astruc commented on it in his tweet, saying "Some days, beautiful things are more needed than others. So here are two lovely dorks to cheer us all. #love".
[73]
The next day, Zag revealed a sneak peek image of "The Collector" on Instagram. Zag commented on it in his post, saying "Get ready for Season 2!"
[74]
On the same day, Weisz posted an Instagram video of Papenbrook recording lines for a Season 2 episode.
[75]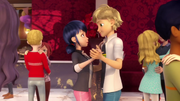 On August 24, another two images from an unknown episode of the season were released by Zag on Instagram. The first screenshot features Marinette and Adrien slow dancing in a crowd of people at Le Grand Paris, and the second screenshot features Chloé overlooking a party at the hotel.[76][77] The same day, Astruc released a bit of an animatic from an unknown season on Twitter. The scene featured Ladybug ice-skating through Paris, with an unknown akumatized villain behind her. Astruc, regarding the animatic, said: "So I heard you like ice skating? Does Ladybug has good moves L'avis de l'expert (The expert's opinion), Phillipe Candeloro?"[78] This gif was later confirmed by Pain to be from the second season.[79] Then, reaffirming that he was working on Season 2, Weisz posted two screenshots from the Season 2 dubbing process on his Instagram on August 28.[80] On August 31, TFou announced that Season 2 would be released in France in Autumn 2017. They also released a video with interviews and concept art that revealed new major information, including special superpowers for Ladybug and Cat Noir, a future Miraculous holder, new akumatized villains, and special events comprised of two or three episodes.[81]
On September 6, Selah Victor, Chloé's English voice actress, started recording lines for Season 2.[82] It was also announced that Portugal and Germany has started the dubbing for Season 2 in September, along with Brazil, and Italy planning to start dubbing soon in the same month.[83][84][85] On September 14, Selah Victor released another voice clip of her trying to laugh for her character.[86] A press conference by TF1 happened on September 22, releasing the first two episodes for the press.[87] At the conference, it was revealed that the first two episodes of Season 2 would include revelations, humor, and action, with new information on mysteries and the history being disclosed.[88][89] In particular, while the official release date for France hadn't been released, the range was noted to be around late October and early November 2017.[90] At the same time, it was confirmed that the exact airdate for Season 2 for France will be revealed next week or the following week after.[91]
Cast and crew
To view a complete list of all the staff and cast that worked on Season 2, go to Season 2/Credits.
Main cast
Recurring cast
Episodes
Main articles: Episode guide and Episode guide/International
Note: These episodes are currently in order of confirmed production order, followed by the order of their confirmation, and their order may not reflect the true order of the season.
Trivia
The first 13 episodes of this season will be released on Netflix in the US at once.[92] The other 13 will come out later.
Gallery
| | |
| --- | --- |
| Click here to view the gallery. | |
References
Ad blocker interference detected!
Wikia is a free-to-use site that makes money from advertising. We have a modified experience for viewers using ad blockers

Wikia is not accessible if you've made further modifications. Remove the custom ad blocker rule(s) and the page will load as expected.