Major Spoiler Warning
This page contains major spoilers that have not yet appeared in any episodes anywhere worldwide.
NOTICE: To avoid spreading unwanted spoilers to other users,
this page will not be redirected to her civilian identity until the superheroine first appears in the show.
This article is about the upcoming Bee Miraculous holder. You may be looking for another Bee.
"
I am Chloé Bourgeois, and from now on, I'll be your new superhero: Queen Bee!
"

—Queen Bee, Wilfried Pain's Twitter

Queen Bee[1][2] or Queen B[3] is an upcoming superhero who will help Ladybug and Cat Noir "during particularly difficult missions" in the second season of Miraculous: Tales of Ladybug & Cat Noir.[4][5] With the Bee Miraculous, when inhabited by Pollen, she can transform into a bee-themed superhero.
Appearance
Physical appearance
As a civilian, Queen Bee stands at a medium height with honey blonde hair pulled back into a ponytail and has blue eyes.
As Queen Bee
Queen Bee wears a yellow and black mask. She wears her hair back in a ponytail, tied with a black hairband, with two black antennae-like ribbons sticking out from the hairband.[6] The Bee Miraculous comb is placed in the upper right side of her head, next to the hairband. Queen Bee wears a yellow costume with three black stripes on her torso and two on the upper thigh. Her upper rib cage is covered by black. The sleeves of the costume are also black, which end in gloves with yellow fingers. She carries a small round bag at her hip with three strings of various length, ending in a black and yellow striped bead, hang from the bottom of the bag. Her boots are black and thigh high. Additionally, she carries a weapon that appears to be a trompo with a pull string.[6]
Abilities
As Queen Bee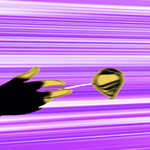 Not much is known about Queen Bee's abilities. However, she can yank the pull string on her trompo to send it onto the ground and allow it to spin.
[6]
She can travel with her trompo (either by riding it or letting the trompo pull her), attack with it, and protect with it. Her superpower also involves the top.
[7]
Sightings
Episodes
Trivia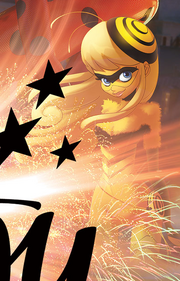 Queen Bee's existence was first revealed in 2015 in an illustration by ZAG celebrating MIFA's 30th anniversary.[8]

The character was eventually confirmed to be Queen Bee during the Miraculous Ladybug panel at the 2016 San Diego Comic-Con.[4]

She was later teased in a concept poster for the "ZAG Heroez" franchise that Jeremy Zag posted on his Instagram, the poster showing her lower body and legs.[9]
Her identity was revealed to be Chloé at a Miraculous panel at New York Comic Con 2016.[5]
Queen Bee's design changed in many ways from the earliest known concept art of her.

She didn't tie up her hair, letting it hang loosely, and she had bangs.
She had a black and yellow striped round cap on the side of her head from which protruded two antennae.
Her hands were covered with yellow gloves, with the black sleeves ending at a point at the center of the front and back of them.
The top part of her torso -including her upper arms- was fuzzy.
She had a circular, yellow with black circles purse around her waist.
Wilfried Pain commented in an interview that knowing Chloé, she will be showing off a lot as Queen Bee.[7]
Gallery
| | |
| --- | --- |
| Click here to view the gallery. | |
References