| | |
| --- | --- |
| | This page lists designs and outfits for Nadja Chamack. Both final and conceptual designs are presented here. |
Final designs
Nadja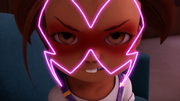 Nadja stands at a medium height with pale skin, brown eyes, and small pink lips. She has vibrant, short, fuchsia hair.

She wears an indigo blouse with a purple button and lining. Underneath, she wears a violet shirt with white accents. Around her neck, she has a gold chain necklace with a pale green five-petaled flower charm. She also wears a white watch on her right wrist, white jeans, and red shoes.
First appearance: "Mr. Pigeon"
Knight minion
Transformed by Darkblade, Nadja becomes a knight in dark gray armor with bright green designs on her epaulet and helmet.
First appearance: "Darkblade"
Winter outfit
Nadja wears a lavender turtleneck sweater under her blouse.
First appearance: "A Christmas Special"
Ad blocker interference detected!
Wikia is a free-to-use site that makes money from advertising. We have a modified experience for viewers using ad blockers

Wikia is not accessible if you've made further modifications. Remove the custom ad blocker rule(s) and the page will load as expected.