| | |
| --- | --- |
| | This page lists designs and outfits for Nadja Chamack. Both final and conceptual designs are presented here. |
Final designs
Nadja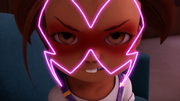 Nadja stands at a medium height with pale skin, brown eyes, and small pink lips. She has vibrant, short, fuchsia hair.

She wears an indigo blouse with a purple button and lining. Underneath, she wears a violet shirt with white accents. Around her neck, she has a gold chain necklace with a pale green five-petaled flower charm. She also wears a white watch on her right wrist, white jeans, and red shoes.
First appearance: "Mr. Pigeon"
Prime Queen
Prime Queen wears a pixel-textured head helmet with a light blue visor, while her hair, being stiff, shinier, and wilder, is on the outside. Because of the visor, her lips and pupils are glowing pink while the rest of her face is blue. She wears a dark blue pixel-textured body suit with a pattern of glowing light blue rectangular outlines connected with lines. Her lower arms and lower legs are fuchsia, and around her legs above the ankles is a thicker band with a glowing blue edge. The bottom of the suit combines with fuchsia high platform shoes.
First appearance: "Prime Queen"
Knight minion
Transformed by Darkblade, Nadja becomes a knight in dark gray armor with bright green designs on her epaulet and helmet.
First appearance: "Darkblade"
Winter outfit
Nadja wears a lavender turtleneck sweater under her blouse.
First appearance: "A Christmas Special"
Final design accessories
Smartwatch
Nadja wears a smartwatch keeps track her show's ratings. The watch has a gray interface, a rectangular black screen in the center, and a white strap.
First appearance: "Prime Queen"
Earpiece Headset
Nadja wears a black Earpiece Headset that has a small LED light outline and a green button.
First appearance: "Prime Queen"