Major Spoiler Warning
This page contains major spoilers that have not yet appeared in any episodes anywhere worldwide.
"
Don't be bemused, it's just the news!
"

—Nadja, "Darkblade"
Click here to see quotes from Nadja Chamack.
Nadja Chamack
[1]
[2]
is a
TVi
news reporter and
Manon
's mother.
Appearance
Physical appearance
Nadja stands at a medium height with pale skin, brown eyes, and small pink lips. She has vibrant, short, fuchsia hair.
Civilian appearance
She wears an indigo blouse with a purple button and lining. Underneath, she wears a violet shirt with white accents. Around her neck, she has a gold chain necklace with a pale green five-petaled flower charm. She also wears a white watch on her right wrist, white jeans, and red shoes.
As Prime Queen
She wears a pixel-textured head helmet with a light blue visor, while her hair, being stiff, shinier, and wilder, is on the outside. Because of the visor, her lips and pupils are glowing pink while the rest of her face is blue. She wears a dark blue pixel-textured body suit with a pattern of glowing light blue rectangular outlines connected with lines. Her lower arms and lower legs are fuchsia, and around her legs above the ankles is a thicker band with a glowing blue edge. The bottom of the suit combines with fuchsia high platform shoes.
For more of Nadja's outfits and designs, see Nadja Chamack/Designs.
Personality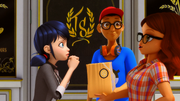 Nadja is nice, informative, and interested in getting the details on an event to Paris. She gets impatient if she has to wait too long, and she sometimes goes too far in her quest for news, being insensitive with Armand when she tries to interview him after his loss at the election to André Bourgeois in "Darkblade". However, she is fearless in her quest to spread the word, even willing to interview the titular villain of "Pixelator" and calling herself the reporter who "spreads the villains' voice." Through all of her reports, she is professional and formal, but at the same time, she willingly expresses concern or happiness during particular instances. She is friendly to others, and she is very motherly to her daughter, though willing to discipline her.
Family
Tree
    = Male
    = Female
    = Gender Unknown
Relationships
Manon is Nadja's daughter, whom she loves. While she can be very stern with her, like when she finds out Manon has one of Marinette's dolls and mistakenly believes she stole it, she means well, caring about her safety and wanting her to learn good virtues. Although Nadja has gotten used to Manon's baby doll eyes, she notes that Manon can be "very persuasive." She also worries greatly when she can't go and find Manon in "The Puppeteer", and she is relieved once she reunites with her.
Nadja appreciates that Marinette babysits Manon for her, and she understands Marinette's difficulty with Manon sometimes and her intentions to do the best she can with her. She forgives Marinette for her giving Manon a doll against orders in "The Puppeteer", and although she is at first getting impatient waiting for a cake delivery at Tom & Sabine Boulangerie Patisserie that Marinette is supposed to retrieve for her in "Timebreaker", she is content once Marinette shows up, apologizes, and gives her the cake.
With Ladybug, Nadja is grateful for her and Cat Noir's work to keep Paris safe. Many of Nadja's news reports are related to the villains that create trouble and the heroes that defeat them. During Manon's akumatization, Nadja feels slightly better after Ladybug reassures her that they'll find her daughter, and she thanks her when she is with Manon once more.
Sightings
Episodes
Trivia
Her name is misspelled as "Nadia Chamack" when Rose watches her news report in the episode "Princess Fragrance".
In "Timebreaker", she ordered a cupcake cake in the shape of the Eiffel Tower from Tom & Sabine Boulangerie Patisserie, which Marinette helps her get while her parents are gone.
She and Sabine are good friends, and she occasionally has Sabine's daughter, Marinette, babysit Manon.
She is partially responsible for Armand D'Argencourt and Manon's akumatizations.
Her catchphrase is "Don't be bemused, it's just the news," as seen in "Darkblade" and "Princess Fragrance".

Gallery
| | |
| --- | --- |
| Click here to view the gallery. | |
References
Ad blocker interference detected!
Wikia is a free-to-use site that makes money from advertising. We have a modified experience for viewers using ad blockers

Wikia is not accessible if you've made further modifications. Remove the custom ad blocker rule(s) and the page will load as expected.