| | |
| --- | --- |
| | This page lists designs and outfits for Ms. Mendeleiev. Both final and conceptual designs are presented here. |
Final designs
Ms. Mendeleiev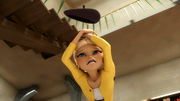 Ms. Mendeleiev is tall with deep blue eyes. She has short dark purple hair, prominent lips, and a beauty mark on her left cheek.

She wears black square-framed glasses, along with a purple collared dress shirt with a white scientific scribble pattern underneath a white lab coat. She also wears a brown watch on her right wrist, blue jeans, a brown leather belt, and red high heels.
First appearance: "The Evillustrator"
Final design accessories
Blue and red handcuffs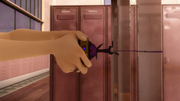 When Rogercop places Ms. Mendeleiev under arrest, he attaches a pair of handcuffs to her wrists that has no chain, a glowing red left cuff, and a glowing blue right cuff.
First appearance: "Rogercop"
Ad blocker interference detected!
Wikia is a free-to-use site that makes money from advertising. We have a modified experience for viewers using ad blockers

Wikia is not accessible if you've made further modifications. Remove the custom ad blocker rule(s) and the page will load as expected.