Miraculous: Tales of Ladybug & Cat Noir redirects here. You may be looking for the another Miraculous.
Miraculous: Tales of Ladybug & Cat Noir (also named LadyBug or Lady Bug,[1] Miraculous,[2] or Miraculous Ladybug) is a CGI animated French series. It is a co-production by ZAG Animation, Method Animation, Disney Channel EMEA, Toei Animation, SAMG Animation, SK Broadband, PGS Entertainment and AB International Distribution.[3] It premiered around the world starting in fall of 2015.[4] The show was formally licensed by and premiered on Nickelodeon in the United States, with Netflix currently holding the series and online streaming rights.[5][6]
The first season has 26 half-hour episodes and a 10 episode web series, with additional web exclusive content releasing afterwards.[7][8] On November 20, 2015, Jeremy Zag announced that a second season and third season are being worked on.[9]
Synopsis
For episode list, see Episode guide.
Modern-day Paris, Marinette and Adrien are two high school kids with a difference: they are the chosen ones to save Paris from evil! They have been entrusted with an important mission – to capture akumas, creatures responsible for turning normal people into super-baddies. When involved in such adventures, these two school kids become superheroes: Marinette transforms into Ladybug and Adrien becomes Cat Noir. But Ladybug and Cat Noir do not know each other's true identity. Marinette is unaware that, beneath the Cat Noir costume nestles Adrien, her secret crush. Similarly, Adrien doesn't know that Ladybug is, in actual fact, just Marinette - one of the girls in his class.[10]
English cast
Main cast
Recurring cast
Production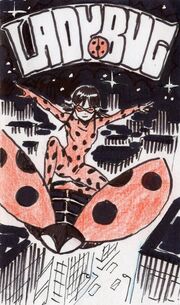 The original concept for Ladybug was conceived by Thomas Astruc around 2005.[11][12] One day, after meeting a young woman who was wearing a ladybug shirt and working with her, Thomas played around the idea of a ladybug, soon creating a sticky note with the design of Ladybug. Thinking that the character worked well, Thomas began to develop this character with new drawings (like as seen with fake comic book covers called The Mini Menace Ladybug) and constructed the universe around her, inspired by comic universes like Marvel. He continued to develop his idea until he met Jeremy Zag, a producer at Zagtoon, who allowed Thomas to do what he thought best with it.[13]
There were many changes that Ladybug went through during development. The series was originally meant to be for older audiences like teens and young adults, having political stories and a darker tone. However, explained by writing director Sébastien Thibaudeau, "some elements hindered its perception and no one really knew why",[13] so the crew worked on making it lighter for a younger audience. Toei Animation helped to create an animated promotional video showing footage of what the show would be like in order to showcase the show as an anime, but eventually, it was decided to make the series in CGI. There was also a point in time where producers encouraged making Ladybug and Cat Noir a part of a superhero team, but it didn't help sell the show, and the superhero team idea was dropped because of it.[14]
Astruc created the show by drawing ideas and concepts from Franco-Belgian comics, American comics, and Japanese animation. He found inspiration for Ladybug from Amélie Poulain, Spider-Man, and Sailor Moon. He and his team wanted to create a show that reflected the romance and beauty of France, and they aimed for it to have superheroes that appeal to young girls while not falling into the clichés of female characters.[13]
DVD Releases
The following is a list of the DVD volumes of the show released in the US.
Comic books
Main article: Chapter guide
International releases
Miraculous: Tales of Ladybug & Cat Noir was first released in the United States on December 6, 2015 on it's former channel called Nickelodeon.
To view a full worldwide list, see Miraculous: Tales of Ladybug & Cat Noir/International Releases.
Trivia
Gallery
| | |
| --- | --- |
| Click here to view the gallery. | |
External links
References
Ad blocker interference detected!
Wikia is a free-to-use site that makes money from advertising. We have a modified experience for viewers using ad blockers

Wikia is not accessible if you've made further modifications. Remove the custom ad blocker rule(s) and the page will load as expected.