| | |
| --- | --- |
| | This page lists designs and outfits for Max Kanté. Both final and conceptual designs are presented here. |
Final designs
Max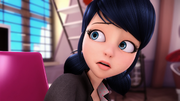 Max is short with dark skin, curly brown hair, and brown eyes.

Max wears black-rimmed glasses, a light green polo shirt, and tan and brown checkered jeans. He also has suspenders with a light tan line between two dark tan lines and silver buckles, along with light grayish blue sneakers and a blue watch on his right wrist.
First appearance: "The Bubbler"
Gamer
Gamer's skin is purple, and his eyes are red. His glasses become butterfly-shaped, and the glass has a light green tint.

He wears a black full-body suit with a small green circle on his chest and three thin green stripes around his waist, each forearm and each lower leg.
First appearance: "Gamer"
Knight minion
Transformed by Darkblade, Max becomes a knight in dark gray armor with bright green designs on his epaulet and helmet.
First appearance: "Darkblade"
Younger Max
Max wears an outfit similar to his regular one except he has fully stretched curly undercut hair. He wears a blue polo shirt with kelly green stripes on the sleeves at the waist and a kelly green collar.
First appearance: "Reflekta"
Max wears an outfit similar to his regular clothes, but his pants aren't cuffed and his shoes are dark gray. Also, his blue watch is missing.
Final design accessories
Chef hat
During the class field trip at Le Grand Paris hotel, while he works in the kitchen, Max wears a white chef hat with the hotel's logo on the band brim.
First appearance: "Pixelator"
Christmas hat
During Christmas time, Max wears a red Santa-styled hat with a snowflake print. It looks similar to Adrien's Christmas hat, only it doesn't have three tassels attached to the fuzzy ball.
First appearance: "A Christmas Special"
Motorcycle helmet
Whilst being subjugated by Robostus, Max wears a red motorcycle helmet with black edges with three silver buttons attached to the top along gray comfort liner.
First appearance: "Robustus"
Comic designs
Conceptual designs
Old concept Max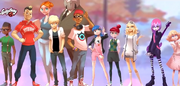 Max wears his regular outfit. However, his hair is straight.
Non-canon designs
Musical first outfit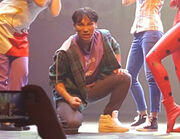 Max wears a different outfit, which includes a purple t-shirt with white lettering printed on the front underneath a green and black plaid hooded jacket.
First appearance: "Ladybug (musical)"
Musical second outfit
The second outfit is very alike to Max's regular animated appearance, albeit his suspenders being solid dark brown and his shoes being white. However, Max also wears a black pork pie hat.
First appearance: "Ladybug (musical)"
Musical scientist costume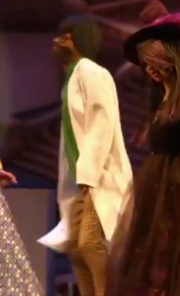 In this musical, Max wears a white lab coat over his regular attire.
First appearance: "Miraculous Ladybug (musical)"
Ad blocker interference detected!
Wikia is a free-to-use site that makes money from advertising. We have a modified experience for viewers using ad blockers

Wikia is not accessible if you've made further modifications. Remove the custom ad blocker rule(s) and the page will load as expected.