This article is about the character. You may be looking for the voice actor Max Mittelman.
"
With a 6 feet-per-second win behind you and 45 degrees to the northeast... I don't think you'd be a rotten egg. You'd be lunch.
"

—Max, "Animan"
Click here to see quotes from Max Kanté.
Max Kanté[1] is a student in Miss Bustier's class at Collège Françoise Dupont. In "Gamer", when he loses his place in the school video game tournament because of Marinette, he's infected with an akuma by Hawk Moth and becomes Gamer, a supervillain who controls a huge fighting robot.
Appearance
Physical appearance
Max is short with dark skin, curly brown hair, and brown eyes.
Civilian attire
Max wears black-rimmed glasses, a light green polo shirt, and tan and brown checkered jeans. He also has suspenders with a light tan line between two dark tan lines and silver buckles, along with light grayish blue sneakers and a blue watch on his right wrist.
As Gamer
Gamer's skin is purple and his eyes are red. His glasses become butterfly-shaped, and the glass has a light green tint. He wears a black full-body suit with a small green circle on his chest and three thin green stripes around his waist, each forearm and each lower leg.
For more of Max's outfits and designs, see Max Kanté/Designs.
Personality
Max is a gamer and a fan of technology.[2] He is smart, especially when it comes to mathematics, like figuring out how fast Kim needs to be to make it to Pont des Arts right before Chloé gets there in "Dark Cupid". He tends to be carried away with his knowledge, often over-explaining things with further detail than necessary and occasionally revealing something that was supposed to be a secret. Max is also friendly, helping his friends with knowledge and support. In "Gamer", when he loses his place in the competition for which he trained a whole year, he sportingly congratulates to Marinette and Adrien before he quickly leaves the room. Once outside, he starts rambling to himself about how unfair his situation was, and it isn't until after his akumatization and Marinette offering up her spot to him in the competition that he perks up.
As a villain, he stops at nothing to show everyone that he's the best gamer, even turning people into experience points that help him level up. Additionally, the resentment he held towards Marinette turns into hate, resulting in him specifically targeting her for a brief period.
Abilities
As a civilian
Max is very intelligent, being excellent at knowing facts, statistics, and calculations. He is also very skilled in playing video games and he has one of the highest scores in the entire school at playing Ultimate Mecha Strike III.
As Gamer
As soon as he transforms into Gamer, he gets a giant fighting robot designed after MX-01 from Ultimate Mecha Strike III. He starts off with the robot's Level 1 form, a simple floating black pyramid with a green eye, but by shooting at the population and cars, he turns them into experience points that make him level up. Level 2 adds two tall tentacle-like legs. Level 3 makes the robot more human-like and gives it the power to perform some special moves, like firing electricity and missiles, creating a force field and spinning to make a drill. Level 4 is the final level, but its form is unknown.
With his glasses, Gamer is able to save his last level and respawn in case his robot is destroyed.
Relationships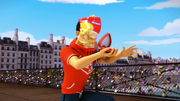 Max is best friends with Kim. They are usually seen around each other and sit next to each other in class. Max supports Kim, helping him prepare to express his feelings to Chloé in "Dark Cupid".
Generally, Max and Marinette get along nicely. In "Gamer", he becomes upset with Marinette for beating him at Ultimate Mecha Strike III and becoming the second student to go to the tournament, which he tries to hide but fails over time. After she offers up her place for him, though, he gains a lot more respect for her, and he encourages her when she ends up being his partner.
Sightings
Episodes
Tales from Paris
Opening:
Appears
1. "The Notebook":
Absent
"TBA":
Unknown
2. "Inspiration":
Absent
"TBA":
Unknown
3. "Repetition":
Absent
"TBA":
Unknown
4. "Busy Day":
Absent
"TBA":
Unknown
5. "Homework Essay":
Absent
"TBA":
Unknown
"TBA":
Unknown
"TBA":
Unknown
"TBA":
Unknown
"TBA":
Unknown
"TBA":
Unknown
"TBA":
Unknown
"TBA":
Unknown
"TBA":
Unknown
"TBA":
Unknown
"TBA":
Unknown
Comics and books
Other
Trivia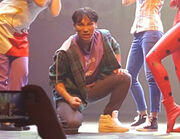 In "The Bubbler" and "Lady Wifi", Max appears without glasses.

Thomas Astruc noted the instance in the former episode as an animation mistake.[3]

In his first appearances in the Korean musical Ladybug, Max wears a different outfit, which includes a purple t-shirt with white lettering printed on the front underneath a green and black plaid hooded jacket.

In later performances, Max's outfit is mostly identical to his show appearance, excluding his glasses and including a black hat.
Gallery
| | |
| --- | --- |
| Click here to view the gallery. | |
References
Ad blocker interference detected!
Wikia is a free-to-use site that makes money from advertising. We have a modified experience for viewers using ad blockers

Wikia is not accessible if you've made further modifications. Remove the custom ad blocker rule(s) and the page will load as expected.