Miraculous Profile: Luka Couffaine
Click here to see quotes from Luka Couffaine.
Luka Couffaine is a character who appears in the second season of Miraculous: Tales of Ladybug & Cat Noir. He is Juleka Couffaine's older brother, and also a new student at Collège Françoise Dupont, who attracts the attention of Marinette Dupain-Cheng.[3][4][5]
Appearance
Physical appearance
Luka has aqua eyes, and medium-length black hair that has been dyed teal blue at the tips.
Civilian attire
His attire includes a white shirt with a black Jagged Stone imprint, and black jeans ripped at the knee. He also wears a brown leather bracelet, two yellow and orange wristbands and his fingernails are painted black. He completes the outfit with a sky blue hooded jacket as well as red and black checkered sneakers. He wears a silver ring on his left pointer finger and black gauges. He wears plain, circular black earrings.
Personality
Unlike his sister, Luka is a playful, charming and flirtatious boy. He can be socially awkward, so he feels that he "tends to make more sense with his guitar." He is also a very kind boy, especially towards Marinette in "Captain Hardrock", calling her "unbelievably brave." He is also skilled at reading people's emotions and expressing it through music with his guitar.
Relationships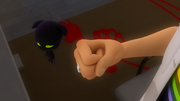 Marinette and Luka first meet in "Captain Hardrock". At first, Marinette is startled by him and stutters when she speaks to him. He teases her playfully about her stuttering but immediately regrets it when she frowns, embarrassed. She then begins to warm up to him as she listens to him play the guitar. He believes that music is often simpler than words. As a memento, he lets her keep a guitar pick of Jagged Stone that she admires, calling her a "funny girl." Alya Césaire notices Marinette's interest in Luka and teases her about it. Luka later compliments Marinette when he calls her "unbelievably brave", and Marinette, as Ladybug, blushes at his comment.
Family
Tree
    = Male
    = Female
    = Gender Unknown
Sightings
Episodes
Trivia
Luka has a strong resemblance to Shun'Ei, a main character from the game King of Fighters XIV, most notably their rock-themed appearance, blue hair and anime looks.
Luka was first revealed in a French synopsis for Season 2 on Le Figaro.[3]

He was later revealed to be Juleka's older brother in a Brazilian synopsis for Season 2 on O Universo da TV.[5]

According to Feri González, Luka is handsome, and people "are going to fall in love with him."[6]
Luka is skilled at playing guitar.

He is also a fan of Jagged Stone, as he tells Marinette in the episode "Captain Hardrock".

According to Thomas Astruc, he is approximately 2 years older than his sister. [8]
Luka is the only member of the Couffaine family so far that has not been akumatized.
In the Russian dub, his name is changed to Luke.
Gallery
| | |
| --- | --- |
| Click here to view the gallery. | |
References