Miraculous Profile: Luka Couffaine
Click here to see quotes from Luka Couffaine.
Luka Couffaine is a character who appears in the second season of Miraculous: Tales of Ladybug & Cat Noir. He is Juleka Couffaine's older brother, and also a new student at Collège Françoise Dupont, who attracts the attention of Marinette Dupain-Cheng.[3][4][5]
Appearance
Physical appearance
Luka's eyes are an intense aqua, and medium-length black hair that has been dyed teal blue at the tips. His lips are a pale pink and has a Roman nose.
Civilian attire
His attire includes a white shirt with a black Jagged Stone imprint, and black jeans ripped at the knee. He also wears a brown leather bracelet, yellow and orange wristbands, and his fingernails are painted black. He completes the outfit with a sky blue jacket with a navy blue hoodie underneath, as well as randomly patched high top converse. He wears a black ring with silver outlining on his left pointer finger and black gauges (aka plugs for people who stretches their ears).
Personality
Unlike his sister, Luka is a calm and mysterious boy, mixed with him also being playful, charming, and flirtatious. He is skilled at reading people's emotions and expressing it through music with his guitar, quote on quote "I tend to make more sense with this". He is very kind and generous, especially towards Marinette by cheering her up in "Captain Hardrock". He compliments her by calling her "amazing" and also "unbelievably brave" when he is in front of Ladybug. So far, all his attention is only on Marinette, enjoying her stuttering and awkwardness, maybe believing it to being cute and interesting. He uses his intense eyes and comfortable silence to "magnitize" her.
In the episode "
Frozer
", Luka seems to be easygoing and relaxed. He kindly helps Marinette tie her laces on her figure skates and doesn't react when she kisses him on the cheek.
Abilities
Luka is excellent at playing his guitar.
In "Frozer", he's also good at ice skating and fairly strong lifting Marinette with ease.
Relationships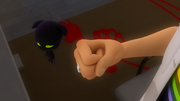 Marinette and Luka first meet in "Captain Hardrock". His mother sends her down to go get him to rehearse with the band. Marinette, who is still bothered by Adrien not coming, and not knowing who Luka is or what he looks like, is startled by him as he opens his eyes, and starts to stutter and mix up her words. He simply teases her playfully about her stuttering but immediately regrets it when she frowns, embarrassed. Reacting to her frown, he apologizes and begins to play his guitar. Her warming up to him as she listens to him play the guitar, he believes that music is "often simpler than words". As a memento, he lets her keep a guitar pick of Jagged Stone that she admires, leaves her in thought, calling her a "funny girl" with a sweet hidden smile. Luka and Marinette exchange sweet glances to each other when Alya Césaire notices Marinette's interest in Luka immediately and teases her about it. He compliments Marinette throughout the time he has with her, helps her escape and hide, and is also worried about her when he talks to Ladybug. Finding out Marinette is safe he calls her "unbelievably brave", and Marinette, as Ladybug, blushes at his comment.
Family
Tree
    = Male
    = Female
    = Gender Unknown
Sightings
Episodes
Trivia
Luka has a strong resemblance to Shun'Ei, a main character from the game King of Fighters XIV, most notably their rock-themed appearance, blue hair and anime looks.
Luka was first revealed in a French synopsis for Season 2 on Le Figaro.[3]

He was later revealed to be Juleka's older brother in a Brazilian synopsis for Season 2 on O Universo da TV.[5]

According to Feri González, Luka is handsome, and people "are going to fall in love with him."[6]
Luka is skilled at playing guitar.

He is also a fan of Jagged Stone, as he tells Marinette in the episode "Captain Hardrock".

Like his sister Juleka, he has colored hair.
According to Thomas Astruc, he is approximately 2 years older than his sister. [8]
Luka is the only member of the Couffaine family so far that has not been akumatized.
In the Russian dub, his name is changed to Luke.
Gallery
| | |
| --- | --- |
| Click here to view the gallery. | |
References