| | |
| --- | --- |
| | This page lists designs and outfits for Lê Chiến Kim. Both final and conceptual designs are presented here. |
Final designs
Kim
Kim is muscular and taller than the average student at school; he has olive skin and dark brown eyes. He styles his hair, which is black with the ends dyed gold, into a sharp quiff.

He wears a red, short-sleeved hoodie jacket with big front pocket and hoodie and some white outlines at certain places. On the front of the jacket, there is a white logo, which is a downward-pointing pentagon outline outside of a smaller, filled-in pentagon with a red corner and a star. He pairs his top with navy blue track sweatpants, and red, white, and black sport shoes.
First appearance: "The Bubbler"
Dark Cupid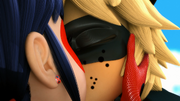 Dark Cupid wears a black and red suit, along with large black wings attached to his back, each feather-like end of each tipped with two red stripes. On the sides of his neck, there are black lighting bolts. He wears a black head cover, the areas covering the top of his hair and around his eyes being red.

The top of his suit is red, with a large white broken heart on his chest. To the waist down, the suit is black. From the elbow down to the hand is black, and from the knee down is red with a few strands of cloth sticking out above the back of each ankle. On his back is a black, red, and white striped quiver, which carries red arrows. On the quiver strap across his chest, the brooch, which is now red and black, is attached to it. His archery bow is based off a breaking heart. The handle is white with red heart halves at the ends, and on each side of the bow, there are two large gray and white spikes.
First appearance: "Dark Cupid"
Knight minion
Transformed by Darkblade, Kim becomes a knight in dark gray armor with bright green designs on his epaulet and helmet.
First appearance: "Darkblade"
Younger Kim
Kim wears an outfit similar to his regular one except his hoodie jacket is yellow and red. The logo on his chest is red, which is a downward-pointing pentagon outline outside of a smaller filled-in pentagon with a white edge and a red star.
First appearance: "Reflekta"
Reflekta duplicate
After Reflekta zaps Kim, he takes on a feminine appearance becoming a physical copy of her.
First appearance: "Reflekta"
Kim wears an outfit similar to his regular clothes, but there are only two stripes on his sports shoes.
Final design accessories
Doorman hat
During the class field trip at Le Grand Paris hotel, while he works at the front doors as a bellhop, Kim wears red doorman hat with a black peak and gold accenting the center equator.
First appearance: "Pixelator"
Christmas party hat
During Christmas time, Kim wears a red party hat with rainbow polka dots.
First appearance: "A Christmas Special"
Comic designs
Kim's comic book appearance is the same as his appearance in the television series.
Lacrosse uniform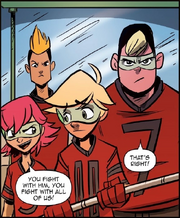 Kim's lacrosse uniform consists of a red short sleeve shirt with dark gray stripes and black shorts with a red stripe. His shirt has a dark gray 8 on the front and back. He wears dark gray pads on his elbows and legs, and on his hands he wears red padded lacrosse gloves. Finally, he has on a pair of white lacrosse cleats.
First appearance: "Miraculous Adventures Issue 1"
Swim outfit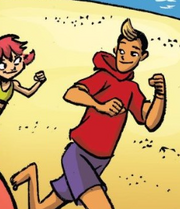 Kim wears his usual outfit but with blue shorts.
First appearance: "Miraculous Adventures Issue 2"
Conceptual designs
Old concept Kim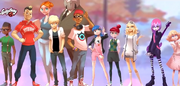 While Kim's outfit is similar to his final design, the lettering for "Notre-Dame" is on his hoodie. Additionally, his sport shoes are red with a white circle on the sides and white laces.
Ad blocker interference detected!
Wikia is a free-to-use site that makes money from advertising. We have a modified experience for viewers using ad blockers

Wikia is not accessible if you've made further modifications. Remove the custom ad blocker rule(s) and the page will load as expected.