| | |
| --- | --- |
| | This page lists designs and outfits for Knightowl. Both final and conceptual designs are presented here. |
Final designs for images
Figure and comic books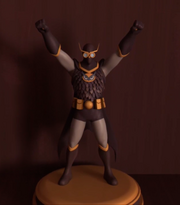 Unlike her current appearance in Miraculous Adventures, Knightowl's logo is a black, white, and orange owl's head. Her mask covers her eyes with gray lenses. There are orange edges around the bottom of her mask, on her boots, and on her boots. Some versions of her cape are dark brown on both sides, and her belt has a circular buckle.
First appearance: "Dark Owl"
Comic designs
Knightowl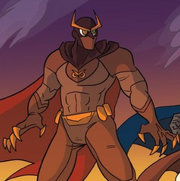 Outside of her superhero disguise, Knightowl is a tall woman with a large build. She has light brown eyes, long flowing brown hair, and small red lips.

As Knightowl, she wears a dark brown cowl with golden spikes akin to an owl's eyebrows over her eyes and a long cape. Underneath, she wears a bodysuit that covers her entire body, including her mouth and chin that aren't covered by the cowl. The suit's shoulders, upper chest, and legs are a darker shade of brown, and on the upper chest, there is a logo of an owl's face comprised of gold lines. Also, she wears brown gloves with gold talon-like claws on the fingers, and she wears a golden belt around her hips. With her mask on, she have dark green irises in her eyes.
First appearance: "Miraculous Adventures Issue 2"
Ad blocker interference detected!
Wikia is a free-to-use site that makes money from advertising. We have a modified experience for viewers using ad blockers

Wikia is not accessible if you've made further modifications. Remove the custom ad blocker rule(s) and the page will load as expected.