| | |
| --- | --- |
| | This page lists designs and outfits for Ivan Bruel. Both final and conceptual designs are presented here. |
Final designs
Ivan
Ivan is large and bulky with gray eyes. His hair is short and black, except for a tuft of long, dyed blond hair above his forehead.

He wears a black t-shirt with a white design of two crossing bones printed on the chest. He also wears black slacks with large belt loops and large pockets, along with white socks and khaki-colored work boots.
Stoneheart
Stoneheart is a huge, muscular gray rock golem with glowing yellow-green eyes.
First appearance: "Ladybug & Cat Noir (Origins - Part 1)"
Chest plate
Over his regular shirt, up to his chest, Ivan wears a silver chest plate with black edges and dark gray strings tied through the front in holes. On the back of a chest plate is a brown sternum strap attached to the metal buttons of the chest plate.
First appearance: "Horrificator"
Monster mask
Ivan wears a cerise mask going down to his shoulders with patches of yellow and orange to represent three eyes. The mask also has cutouts for the eyes and mouth, white strings holding the seams on the shoulders and sides of the head, and blue dreadlocks on the back. The mask goes over the chest plate.
First appearance: "Horrificator"
Knight minion
Transformed by Darkblade, Ivan becomes a knight in dark gray armor with bright green designs on his epaulet and helmet.
First appearance: "Darkblade"
Reflekta duplicate
After Reflekta zaps Ivan, he takes on a feminine appearance becoming a physical copy of her.
First appearance: "Reflekta"
Ivan has an outfit very similar to his usual one, except he wears pale brown boots.
Comic designs
Ivan's comic book appearance is the same as his appearance in the television series.
Swimsuit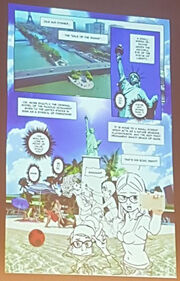 Ivan wears an outfit for swimming.
First appearance: "Miraculous Adventures Issue 2"
Ad blocker interference detected!
Wikia is a free-to-use site that makes money from advertising. We have a modified experience for viewers using ad blockers

Wikia is not accessible if you've made further modifications. Remove the custom ad blocker rule(s) and the page will load as expected.