| | |
| --- | --- |
| | This page lists designs and outfits for Hawk Moth. Both final and conceptual designs are presented here. |
Final designs
Unknown regular appearance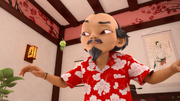 Hawk Moth is tall with light blue eyes.

While Hawk Moth's civilian form is unknown, his silhouette is seen in "Ladybug & Cat Noir (Origins - Part 1)". He has a silver ring on his middle left hand, and he wears pants, shoes with laces, and a long-sleeved shirt with a folded collar.
First appearance: "Ladybug & Cat Noir (Origins - Part 1)"
Hawk Moth
Hawk Moth wears a dark purple dress shirt with a black butterfly-shaped lapel, the Moth Miraculous brooch on the center of the collar, and black dress pants. Over the majority of his face and neck, he wears a silver mask. Whenever he is controlling someone with an akuma, a bright pink butterfly-shaped outline appears above his face and around his eyes. He also has a dark indigo cane.
First appearance: "The Bubbler"
Comic designs
Conceptual designs
Hawk Moth has white hair and white eyes, and he doesn't wear a mask over his face. He wears a white dress suit with a pale tan vest and bow.
Older concept Hawk Moth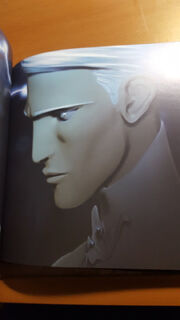 Hawk Moth's outfit in older concept art is basically the same as the Ladybug PV's version, but he has a straight upward collar, he doesn't have a vest, and his bow tie has a different, more complex design.
Later concept Hawk Moth
Hawk Moth has the same suit as his final version, despite it being entirely black. However, he has a dark gray helmet with a reflective butterfly-shaped visor over his eyes, completely covering his face. His gloves also have white butterfly shapes on the palms.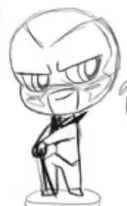 Wearing his regular outfit, Hawk Moth has chibi proportions.
Other