Stub
This article is a stub. You can help the Miraculous Ladybug Wiki by expanding it.
| | |
| --- | --- |
| | This page records the history of Gabriel Agreste. This article includes past tense and broadly looks over the events this character has experienced. |
Gabriel Agreste is a fashion mogul, the husband of Mrs. Agreste, and father of Adrien Agreste. For some reason, he has the Peacock Miraculous.
Work in Progess
The following page/section is currently being edited by Princess of Harte. In order to avoid overlapping edits, please discuss any changes to this page/section with them.
Before Season 1
Gabriel lived differently at the Agreste mansion with his wife and son. His personality changed after his wife went missing. She went missing within nine months before Adrien was allowed to go to school.
He also found the Miraculous book and what appears to be the Peacock Miraculous. It is currently unknown how he found them.
In "Ladybug & Cat Noir (Origins - Part 1)", Gabriel forbade Adrien from going to school. He and Adrien have had this conversation several times.
In "Stoneheart (Origins - Part 2)", after Adrien successfully snuck out of the Agreste mansion again and completed an almost entire day of school, Gabriel relented and let Adrien attend Collège Françoise Dupont on the condition that Adrien's bodyguard drive him to school every day and that he follow Nathalie Sancoeur's updated schedule.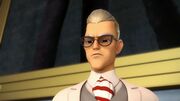 In "The Bubbler", Gabriel did not allow Adrien to have a birthday party. When a student dropped off a present for Adrien, he yelled at Nathalie for forgetting to get Adrien a gift from himself. He was visited by Nino Lahiffe in an attempt to change his mind about the birthday party, but he decided Nino was a poor influence on Adrien and banned him from the Agreste mansion. He was bubbled and sent into space by the Bubbler. Gabriel returned when Ladybug used Miraculous Ladybug. Adrien thanked him for his birthday gift.
In "Mr. Pigeon", Gabriel held a derby hat competition at Adrien's school. The winner's hat would be used in Adrien's next photoshoot. He gave the students 10 hours to create a derby hat. Adrien and Mr. Damocles led Nathalie and Gabriel around to see the hats. When he was confronted with two identical hats and Marinette explained Chloé Bourgeois stole Marinette's design, he made Marinette the winner of the competition.
In "Rogercop", Gabriel either forgot about Parents' Career Day at Collège Françoise Dupont, or he just didn't want to show up. Either way, he disappointed Adrien.
In "Simon Says",
In "Kung Food",
In "Volpina",
In "A Christmas Special",
NOTICE: Even though information on what happens in future episodes of Season 2 has been released, the episodes' events will not be added to this section until they have legal releases through one of the Miraculous broadcasters.
Ad blocker interference detected!
Wikia is a free-to-use site that makes money from advertising. We have a modified experience for viewers using ad blockers

Wikia is not accessible if you've made further modifications. Remove the custom ad blocker rule(s) and the page will load as expected.