"
Ha! You can keep the phone! I'll just buy another one!
"
Chloé's cellphone is a smartphone owned by Chloé Bourgeois.
Appearance
Chloé's phone has a sparkly yellow case with rounded white edges.
Sightings
Episodes
Trivia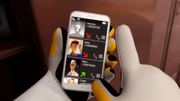 As shown in "Copycat", Chloé's phone number is +33625897.
In "Reflekta", Marinette steals Chloé's cellphone so Chloé doesn't have evidence of her stealing the photographer's camera's memory card. However, she returns it to her later.
Gallery
| | |
| --- | --- |
| Click here to view the gallery. | |
Ad blocker interference detected!
Wikia is a free-to-use site that makes money from advertising. We have a modified experience for viewers using ad blockers

Wikia is not accessible if you've made further modifications. Remove the custom ad blocker rule(s) and the page will load as expected.