| | |
| --- | --- |
| | This page lists designs and outfits for Caline Bustier. Both final and conceptual designs are presented here. |
Final designs
Caline
Caline is tall and light-skinned. She has dark red hair, which she pulls back in a high bun. Her eyes are teal, she has thin pink lips and freckles.

She wears a light blue jacket with a teal collared shirt and white undershirt beneath, she wears a pair of white earrings and she has a small golden necklace dangling from her neck. She also wears light blue pants and white dress shoes.
First appearance: "Mr. Pigeon"
Younger Caline
In this past class picture, Caline has a similar outfit. The differences are that she wears a mint green jacket, a lime collared shirt, and mint green pants, matching her jacket.
First appearance: "Reflekta"
Conceptual designs
Old concept Caline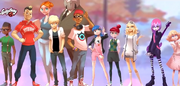 Caline wears a slate gray dress shirt, a white vest underneath with the sleeves being turquoise. Also, she has a pair of light gray dress pants and pink shoes.
Later concept Caline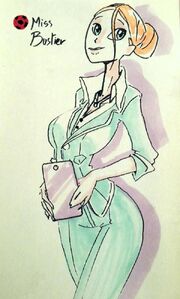 Caline wears a turquoise white-collared jacket, with her sleeves going up to her elbows, and matching turquoise dress pants.
Ad blocker interference detected!
Wikia is a free-to-use site that makes money from advertising. We have a modified experience for viewers using ad blockers

Wikia is not accessible if you've made further modifications. Remove the custom ad blocker rule(s) and the page will load as expected.