| | |
| --- | --- |
| | This page lists designs and outfits for Adrien's bodyguard. Both final and conceptual designs are presented here. |
Final designs
Adrien's bodyguard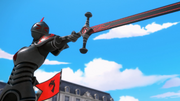 Adrien's bodyguard is large and tall, with blue eyes. The hair on top of his head is black while his sideburns and the hair on the sides of his head is gray. He does not have eyebrows.

He wears a dark blue dress suit with a light blue sweater underneath the jacket. He also has dark blue dress shoes.
First appearance: "The Bubbler"
Winter outfit
While wearing his regular clothes, the bodyguard has a dark gray ushanka with white fur, and he wears dark gray gloves with black spots on his right glove's knuckles and holes on his left glove's knuckles.
First appearance: "A Christmas Special"
Ad blocker interference detected!
Wikia is a free-to-use site that makes money from advertising. We have a modified experience for viewers using ad blockers

Wikia is not accessible if you've made further modifications. Remove the custom ad blocker rule(s) and the page will load as expected.